Day 1
As mentioned in my previous post about long haul flight essentials, hubby and I touched down in Amsterdam following a 20+ hour flight from Perth. In order to acclimatise to the time zone, we decided not to sleep straight away (we'd been up for over 24 hours at this point) but to head out and explore the city.
I had organised a city tour with That Dam Guide. It was a 2 ½-3 hour walking tour of the highlights of Amsterdam. I enjoy walking tours because:
you get to see so much more than sitting in a car or a bus
often you are given insider tips on places to eat and things to see by the guide that you may not find by yourself
it helps to get your bearings in a foreign place
it's more personal if you're in a small group
Mark was a great guide (and he didn't mind that we were pretty much-walking zombies by the end of the tour). He has very informative and made the tour fun, you can tell he really enjoys what he does! It was also a small tour with only about 8 people.
After the tour, we grabbed a bite to eat at a local café and sat back and people watched. I could not believe the number of cyclists in this city, but with such beautiful scenery I can see why riding a bike would be preferable than sitting in a car.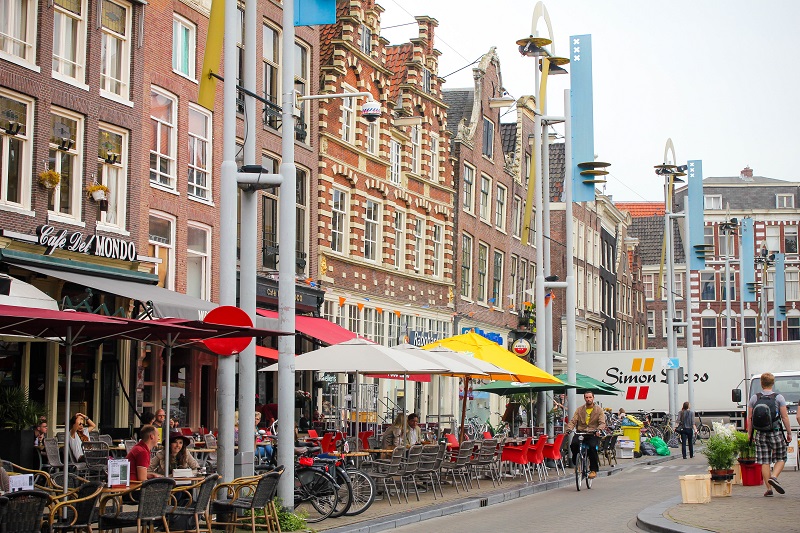 Lack of sleep finally got the best of us so about 4pm so we headed back to the apartment to grab an hour or so of shut-eye before heading out to dinner.
Later that night (and feeling somewhat refreshed after our afternoon kip) we headed out for a bite to eat. We were staying in the Jordaan district as I had read it was not overly touristy but still close to all the attractions. It was the perfect location for us and most places were in easy walking distance.
It was beautiful strolling around the canals with little eclectic shops and galleries spotted around. We found a little place called Restaurant Black and Blue and decided to stop for dinner. It was a great find. We sat at a table out the front and had a steak and bottle of red wine while overlooking a canal. We could not have asked for a better way to finish our first day in Amsterdam. The restaurant had a quiet and relaxing ambience and we visited it again on our last night in Amsterdam.
Day 2
Anne Frank House
Our apartment was about a 10 min walk from the Anne Frank House and whenever we had passed it the day prior we saw there was always a long queue waiting to get in. You can book tickets online, however, we hadn't done that before we left so we decided to head there early. We waited for about 45mins before getting inside.
I had read Anne Frank's diary in high school and I found it quite surreal to be walking around the home where Anne and her family hid. It was quite a sombre experience; however, the museum is set up well and it is a must-see while in Amsterdam.
Van Gogh Museum
Our next stop was the Van Gogh Museum. I had done a little study of Impressionism and Post-Impressionism in high school and these periods of art are still some of my favourites.
Again, you can pre-book tickets, which I would recommend as we waited for another 40mins to get inside. Hubby is not really into art so he headed to the café while I headed into the gallery, along with my audio guide.
I enjoyed seeing some of his famous artworks in the flesh, including Sunflowers, but I was disappointed I didn't see one of my favourites, Starry Night. The audio guide spoke about his life along with his paintings so you walked away with a good understanding of how Van Gogh lived, the stories behind his pieces and ultimately how he died.
Red Light District
Let's face it, the red light district in Amsterdam is famous, we've all heard about it. There was no way I was leaving Amsterdam without seeing the famous district in the flesh. The idea of girls in shop fronts and being able to buy and smoke cannabis legally fascinates me.
We booked the Red Light District – Sex n Drugs tour with Omy Tours. The tour is at night and limited to 4 people, our tour only had 3 including hubby and me.
Michael explained the history of the sex trade and the coffee shops in the area and how it was an important part of the culture of the city. Surprisingly (or perhaps naively) I found the area clean, friendly and safe. Michael, our guide, told us how the government was looking at trying to close down the area, which I think would be a shame.
Michael took us into a couple of sex stores and coffee shops and showed us the different types of drugs you could buy. It was an extremely educational tour and one not to be missed.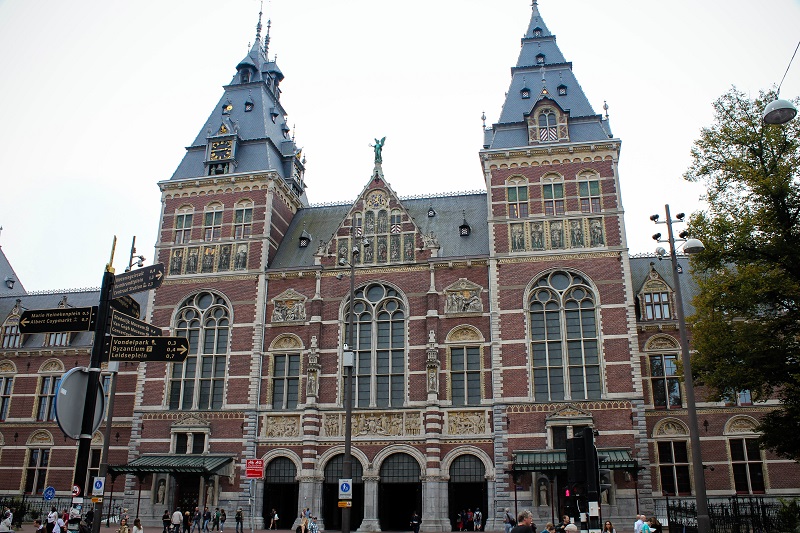 Day 3
On our last full day, we opted to take the Windmill, Cheese and Windmills tour with Joy Ride Tours. The tour is on bike and runs for about 4 -5 hours or about 20km.
The places we visited included:
Vondel Park
Houseboat community (there were some very flash houseboats here)
A view of the freshwater lock system (I've never seen this before and I was amazed watching how they control the water in these lock systems to allow the boats to pass along the river)
300+ year-old windmill
A visit to a 400-year-old farm that makes clogs and cheese (there are lots of cheese samples here)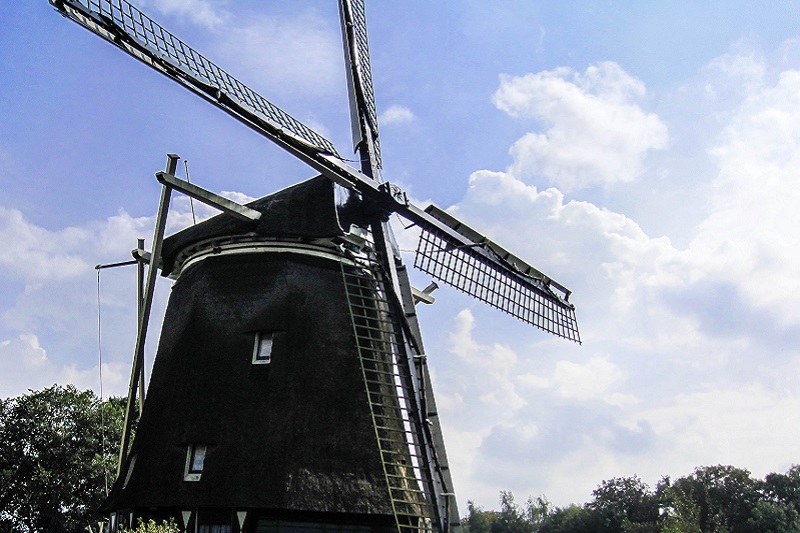 It was pretty much flat all the way and easy for novice bike riders, like me. The only lowlight for the day was my bike getting a puncture, but that was easily sorted out. It was great to be able to see a small part of the countryside (which is only about a 30-minute ride for the centre). Hubby and I both concluded that this was our favourite thing to do in Amsterdam.
Later that night we took a canal ride and it was beautiful meandering around the canals by moonlight. The streets and canals take on a magical feeling at night.
Other areas we explored during our stay were:
The 9 streets (De Negen Straajes) – an area was filled with an eclectic mix of shops selling vintage and designer wares.
Nieuwmarkt – located in the centre this had a fresh produce market and lots of little cafes and eating places.
The Royal Palace at Dam Square
And just generally walking around the many canals of Amsterdam
Amsterdam was the perfect city to ease into our 6-week European tour. It was laid back and not overly crowded. I think that water adds a sense of calm to the city walking around the canal roads at night was just beautiful.
What are your "must-sees" in Amsterdam?