Hubby and I were lucky enough to spend a week down south in the Margaret River wine region last week.
With winter approaching it was a great opportunity to visit some of our favourite wineries, and a few new ones to see what they had on offer to add to our collection. Just like squirrels like to stock up on their chestnuts, we like to stock up on our wine.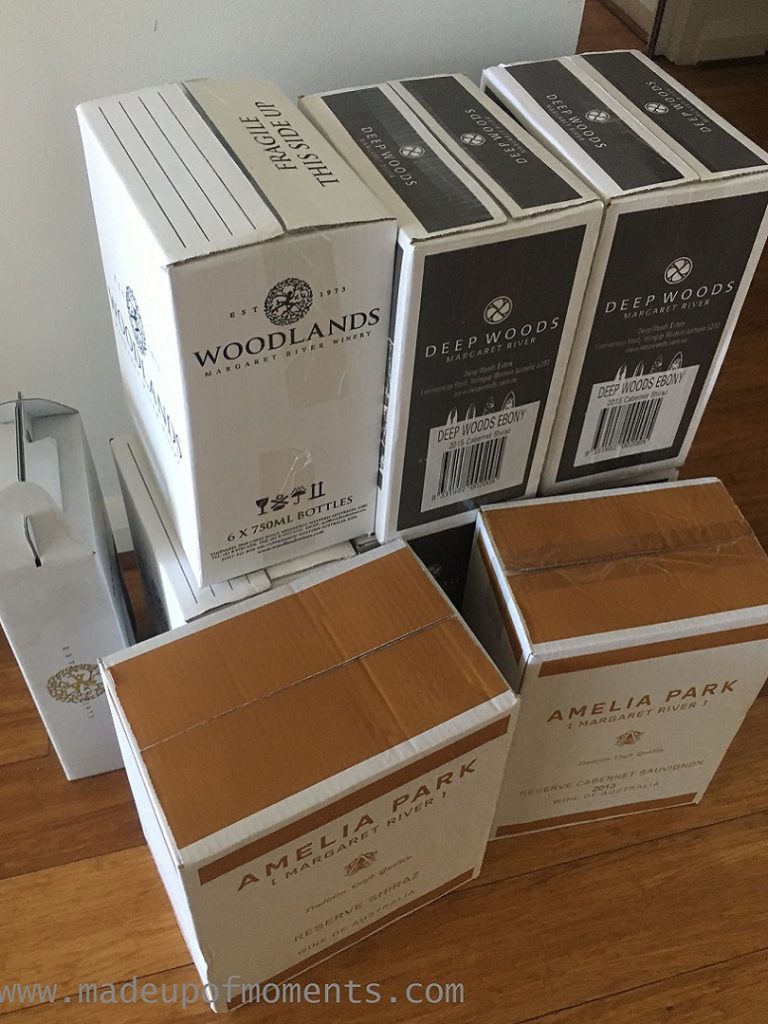 Someone did forget to tell the weatherman that it's Autumn as the entire week was full of sunshine and it was glorious.
Now I know that wineries are not the only activities in the region, but they are one of our favourite things to do.
A sample of the wineries we visited on this occasion are below.
Aravina Estate
It's been a few years since we've been to Aravina Estate. As our friends, who were visiting for a few days, had a couple of kiddies we decided to visit for lunch. Aravina is kid-friendly and they even have a playground for them to burn some energy in.
The garden and view are gorgeous. We sat out on the verandah and enjoyed a tasty lunch. Lunch was so good that hubby and I returned 3 days later for another lunch. If you're headed to Aravina, try the gnocchi – it was divine.
Amelia Park
Amelia Park was recently named the star cellar door in Margaret River by Gourmet Traveller Wine. And the award was well deserved. Silly me didn't take any photos, but you can check them out on their website.
As you open the massive wood doors to the cellar you walk into a dimly lit room that is encased in wine barrels and a few tables where you can sit and have a glass a wine. It has a moody and dark ambience.
We then descended up the stairs and the doors that automatically open and suddenly you are in front of the tasting counter which has floor to ceiling windows with spectacular views over the winery.
After tasting a number of their wines, and 2 cases later, we were on our way.
Amelia Park will also be opening a restaurant in May/June this year which will have views over the vineyards and will be headed by the current Piari & Co chef. We will definitely be returning on our next visit.
Woodlands Wines
Woodlands Wines is one of our "go to" wineries. Last year we did a cellar tour and learnt about their winemaking process. They are a boutique winery who do a lot of the wine processing by hand. The attention to detail is reflected in the quality of wine they have on offer.
And lucky for us they managed to locate a couple of 2013 Pinot Noir bottles I had previously bought (and since drunk) and desperately wanted again. The region is not known for their Pinot Noir, however, the 2013 is a cracker. I'm looking forward to trying their new vintage being released later this year.
Leeuwin Estate
We opted to take the winery tour before having lunch at Leeuwin Estate. The tour goes for about 40mins before heading back to the main room to sample all their wines on offer. Leeuwin is one of the first wineries in the region and is still run by the same family who started it back in 1972.
Leeuwin is more than a winery and restaurant, they also hold a couple of music events throughout the year, the latest being Bernard Fanning and prior to that James Taylor. The owners started the concert series in order to attract visitors to the area.
The winery also has an extensive art collection which is on display on the public gallery downstairs. What I love about the art is that each year they select a piece of artwork to appear on their Art Series wine range. Artists in their collection include Sir Arthur Streeton, Sidney Nolan, Arthur Boyd and John Olsen, to name but a few.
Wine not your thing? Well, check out what else we go up to our on week down south.
What's your favourite winery?