If you've been hiding under a rock, then you wouldn't know that Adele is currently touring Australia. And her first destination is Perth. Adele is one artist, I definitely wanted to see live in Perth.
I was a little surprised when she announced that her tour was coming to Australia. I have watched a couple of interviews with her and she's always said she is a bit of a homebody and doesn't like to travel too much.
Perth has been a destination that a lot of acts seems to skip, I'm not sure why. Maybe we're just too far and too expensive to travel to. But in the last few years more we have been getting more and more of the "big" name acts.
Anyhow, I digress, back to Adele.
I had big expectations and I was not disappointed!
Close to 65,000 made the trek into Subiaco. The media had whipped into a frenzy with Adele fever for days prior. They were warning people to get there early as the traffic was predicted to be horrendous. I'm not sure a cyclone would have gotten as much coverage as the Adele concert was getting (this should give you non-Perth people a little insight as to how starved we are of big acts over here in the West).
We headed there straight from work with the plan to grab a bite to eat in central Subi prior. It seems all other concert-goers had the same idea. Every café we passed had a queue out the door. We decided to go straight to the venue and eat there instead.
Our seats were 8 rows from the front so we were in prime position. The stage was circular and designed for people to see her from every angle. They had installed a screen that wrapped around the stage so you could see what was happening even if she wasn't in front of you. The stage was an amazing design – simple, but effective.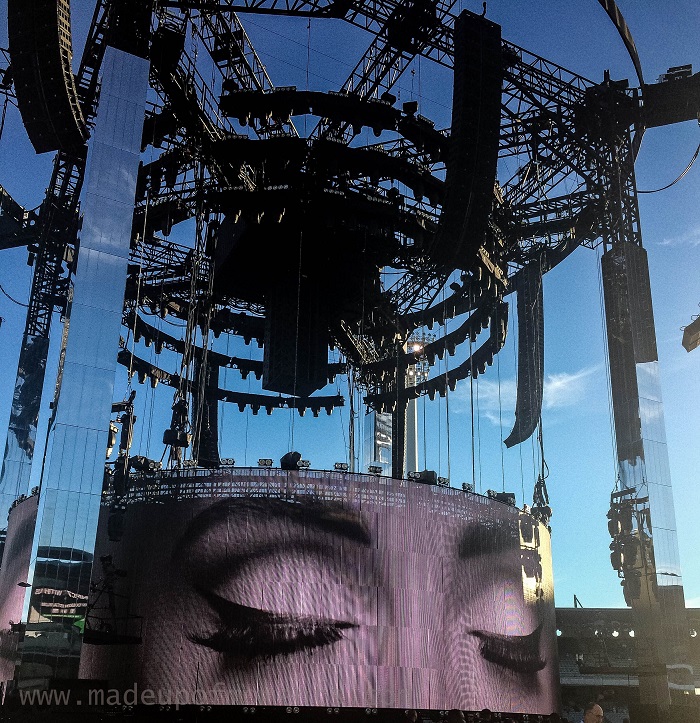 Darkness descended, the screen started to lift and Hello started. What an introduction! Adele is a powerhouse. Her voice was simply amazing and she kept the crowd engaged and entertained with her banter throughout the night.
It is no secret that Adele is a worldwide brand and you would expect to see a bit of ego and maybe even some arrogance, but she was down to earth and very funny. She laughed when a fly made its way into her hot honey and when a cockroach scampered across the stage (I would have been running off that stage and squealing like a girl). She spoke of always saying no to everyone and how our weather was so hot that sweat was running down her legs and she'd need to get her dress dry cleaned.
One moment which showed just how much class Adele has – as the crowded sang along to her final song, Someone Like You, she walked around in awe and was clearly tearing up. She was humble like she couldn't believe that 65,000 were singing in unison to one of her songs.
It didn't matter if you had VIP tickets or you were up in the stalls, this concert was for everyone and Adele truly appreciates her fans. She kept her performance simple, some smoke was used, confetti was thrown, but she didn't overcook the theatrics. It was all about the music and "that" voice, exactly what a music gig should be!