I was fortunate enough to spend a few days in Darwin two weeks ago and it was all about crocodiles, waterfalls and adventure tours!
The firm I work for is celebrating its 20th birthday this year and to mark the occasion they flew the entire firm to Darwin for a weekend.
I have always wanted to go to Darwin, but there were always other places I wanted to visit first. So, I was happy when work decided that this would be the celebration destination.
Rather than waste the opportunity, I extended my stay for a few extra nights so I can further explore the sites of the area.
We stayed in the Waterfront area and I was surprised at how inviting it was. There are numerous restaurants to visit and a wave park. You can walk from the waterfront to the city centre via a sky bridge. Darwin's architecture and the weather reminded me very much of Singapore.
On both Friday and Saturday night, they had live opera on the grassed area in front of the harbour. On Sunday arvo I grabbed an ice-cream and sat on the grass enjoying some cruisy acoustic guitar tunes.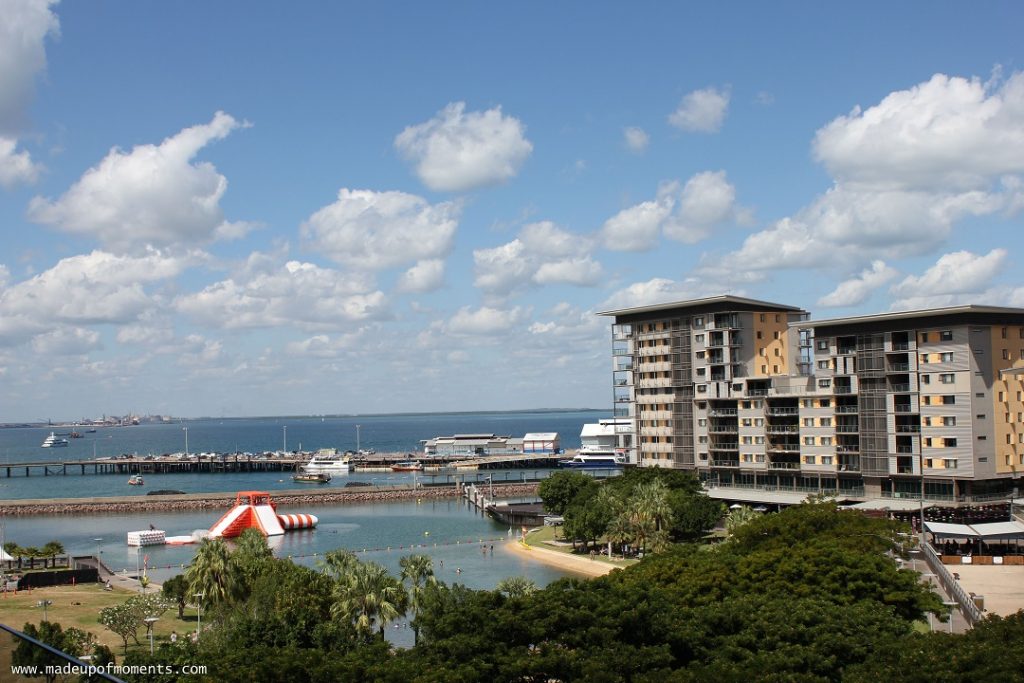 The amazingly awesome tours I took are below.
Litchfield National Park
Firstly, let me say, a late-night partying and drinking the night prior, is not a great way to start a 2 ½ bus ride to Litchfield and nor is sitting near people who did. Yes, I was the responsible one and made sure I got to bed at a decent hour!
Our itinerary for the day was slightly changed in the morning as we were advised Wangi Falls was closed for swimming due to crocodiles. As far as reasons go, I would say that is a darn good one. So, we made our way to Wangi Falls to have a look, have lunch and then move on to the next stop for a swim.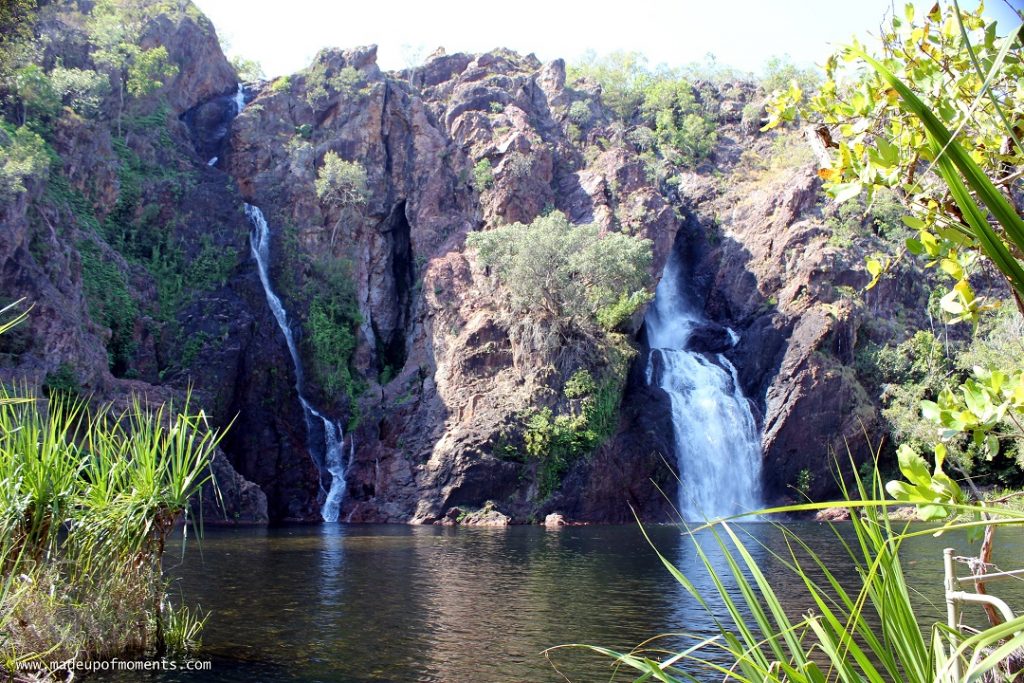 The falls were gorgeous and the water looked very appealing. I can see why it is a favourite of visitors.
Our lunch was set up close to the falls and we were treated to a BBQ of local fare. The menu included fresh prawns, buffalo sausages, crocodile skewers, barramundi and a very tasty paw paw salad (this was my fave by far).
After lunch, we headed to Florence Falls for an arvo swim. You can either head right and walk down 130 odd steps (and then contemplate having to come back up) or head left and find some smaller water holes. We chose left and found our own private water hole to frolic in. What a way to spend the afternoon!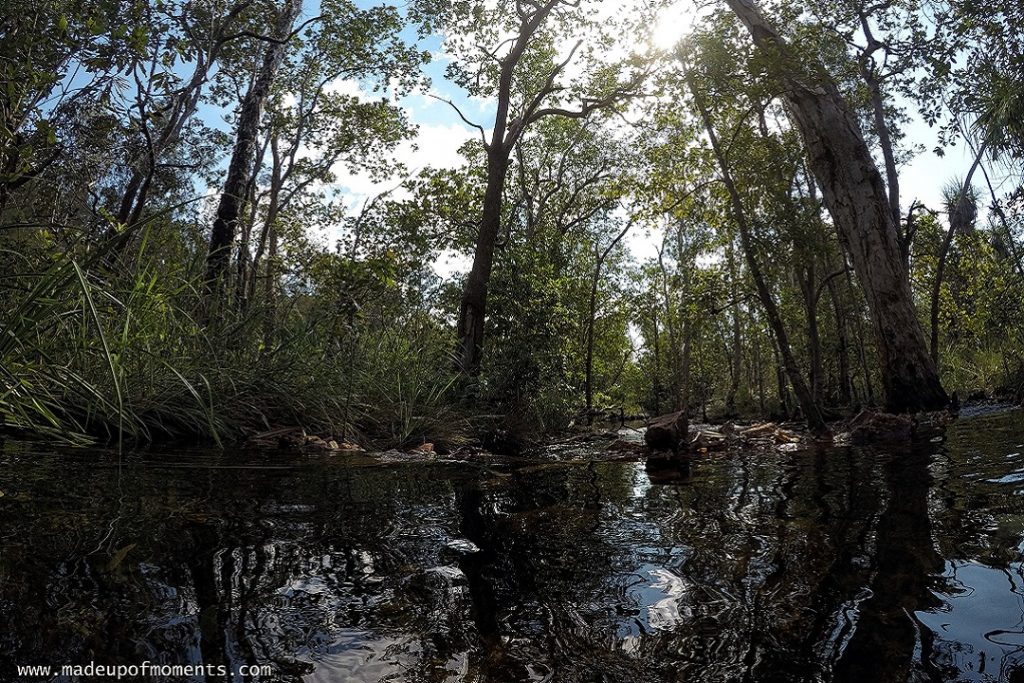 Outback Floatplane Adventures – The Ultimate Tour
By this time, I had waved goodbye to the firm and I was now on my own. I decided that organised tours were the way to go.
There is a reason The Ultime Tour by Outback Floatplane Adventures is the number one tour in Darwin on Trip Advisor and I would put this tour in my top 5 of all time.
I was picked up just after 6am and headed to the airport to catch the floatplane to a lagoon that was about 20 minutes away. There were 9 people, including me, on the tour.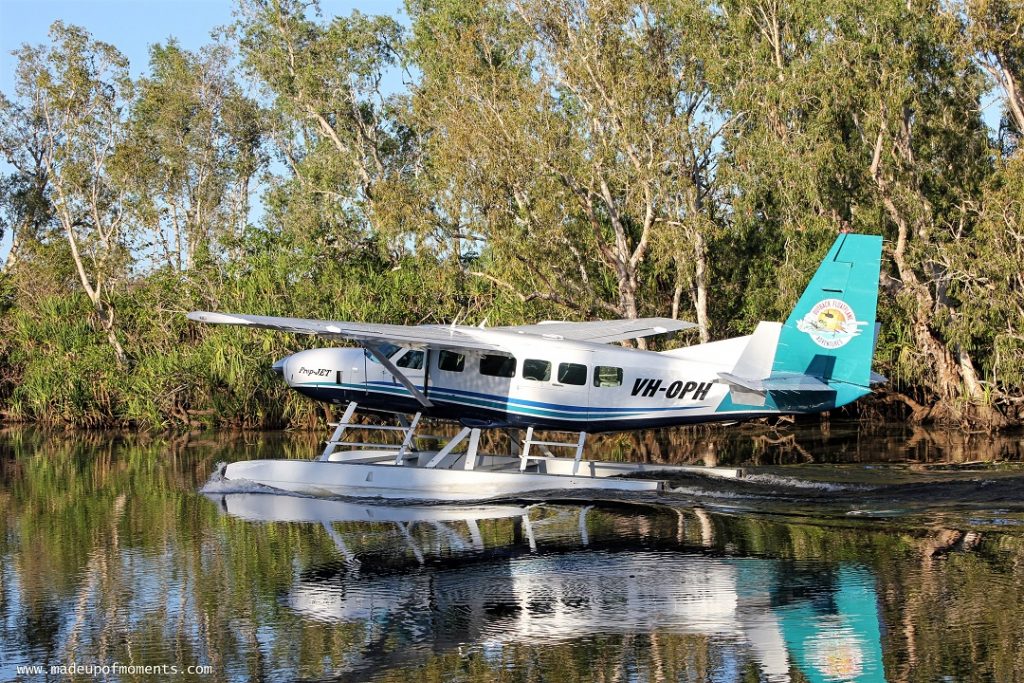 Before hopping on the plane, we were told that when we landed we need to keep to the handrail side of the pontoon. Otis, the resident croc, had recently taken a liking to the pontoon so we were warned not to stand on the open edge as Otis may just snatch you off – I thought they were joking, they weren't! This was one of the many crocodile warnings I was told over the few days I spent in Darwin.
Once we were all settled, we cruised up the lagoon enjoying a full cooked brekky. I was awestruck with the beauty of the area.
After the relaxing cruise, it was time to step things up a notch. Curtis and Jock, our guides, divided us into 2 groups and Curtis took us for a spin in the airboat. Clearly, Curtis' aim is to get you wet! We flew around the lagoon, narrowly avoiding trees, and doing a few 360 turns. I was a little worried it would be a bit too "adventurous" for me, but it wasn't. This ride was a blast!
After returning to the pontoon (and while Jock worked out why the helicopter didn't want to start – we argued over who was going to the first to go up to test it was running smoothly, but that just added to the fun) we all got on the airboat and headed on a more leisurely tour of the smaller waterways of the lagoon and rainforest area.
We had only gone about 500m when Chugg, the croc, appeared. This was the first time I had seen a croc in its own habitat and he was a big boy.
Up next was a helicopter flight over the floodplains with Jock. Now, I am scared of heights, well not just heights, but essentially crashing and dying. And let's just say when I saw the helicopter had no doors, I was a little hesitant. But I pulled on my big girl pants and hopped aboard. The view from the air was enthralling and it made we realise just how vast and spectacular our outback is.
This tour will not be forgotten and I would jump at the opportunity to take hubby back there to experience it.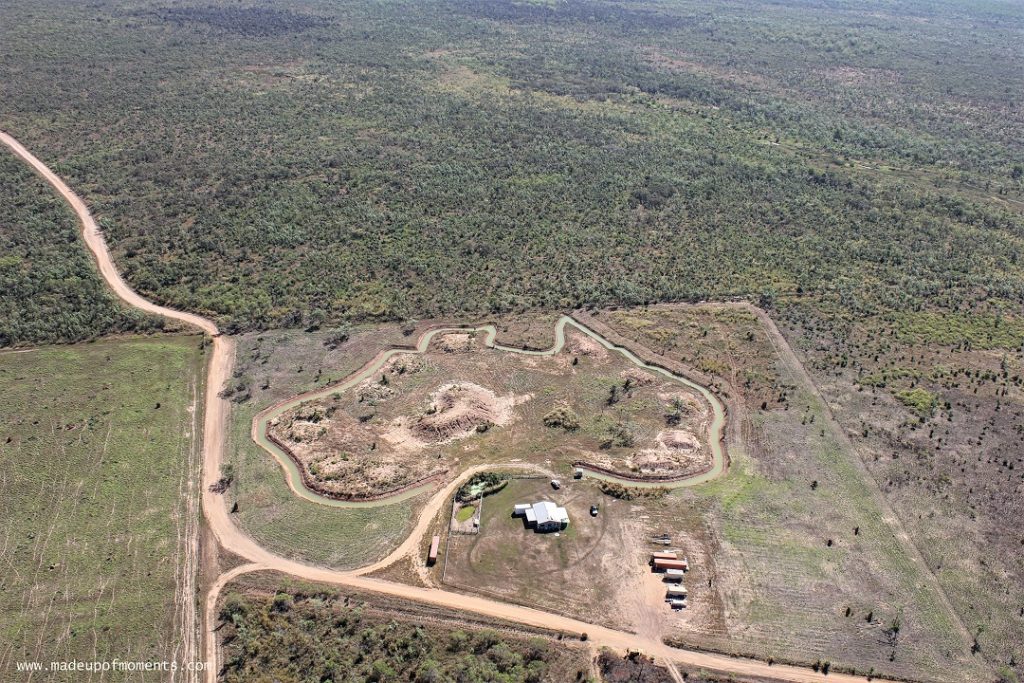 Ethical Adventures NT – Wetlands & Wildlife
Another early start to the day with Ethical Adventures NT on the Wetlands & Wildlife tour. We headed to Fogg Dam Wildlife Conservation area in a small group of 3 people, plus our guide Rob.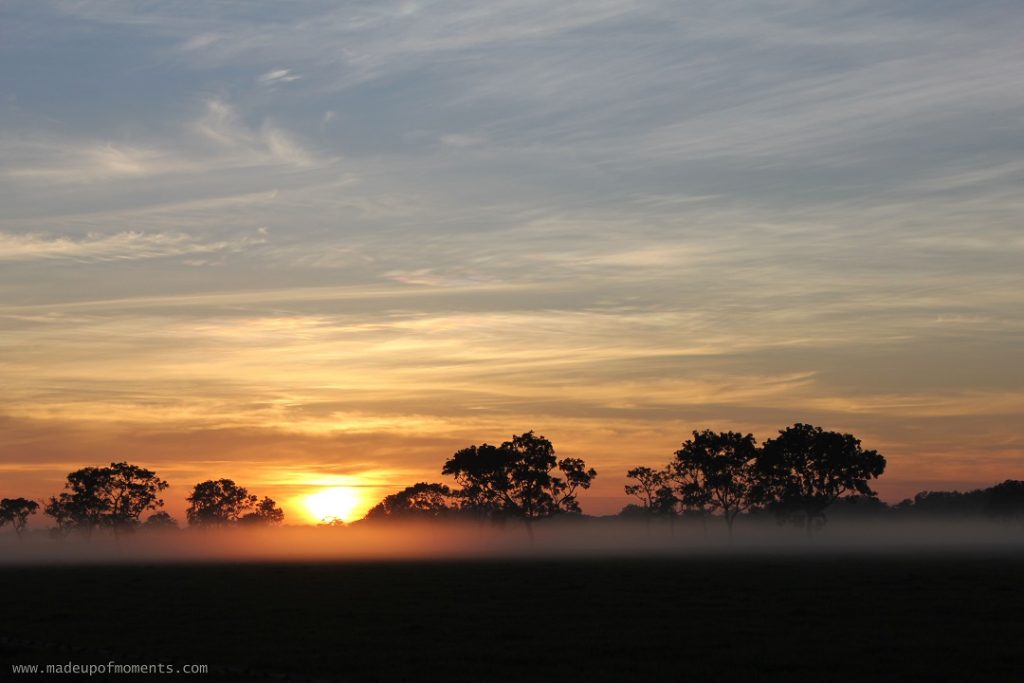 This tour is all about taking it easy and soaking in the atmosphere and scenery. Fogg Dam was majestic early in the morning. We saw lots of different birds and even spotted a small croc. The wetlands are a "must do" for bird watchers and even non-bird people like me could see the appeal.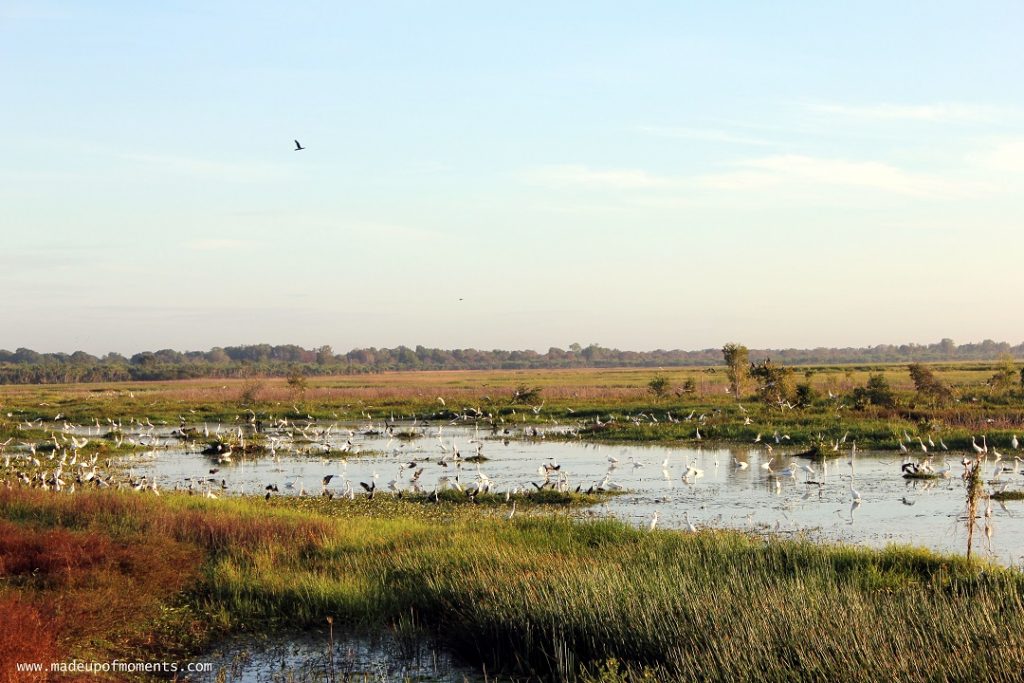 After enjoying some homemade mango muffins and a coffee we headed to Corroboree Billabong on the Mary River where we boarded a 90-minute cruise. I had to laugh when the safety person gave the "what to do in an emergency" speech.
Essentially, he pointed to the life jackets and said it we needed to bail, throw the jackets to the left and swim as fast as you can to the right. The second poignant fact we were given while on the cruise was that your life expectancy if you fell in the water, was about 30 seconds!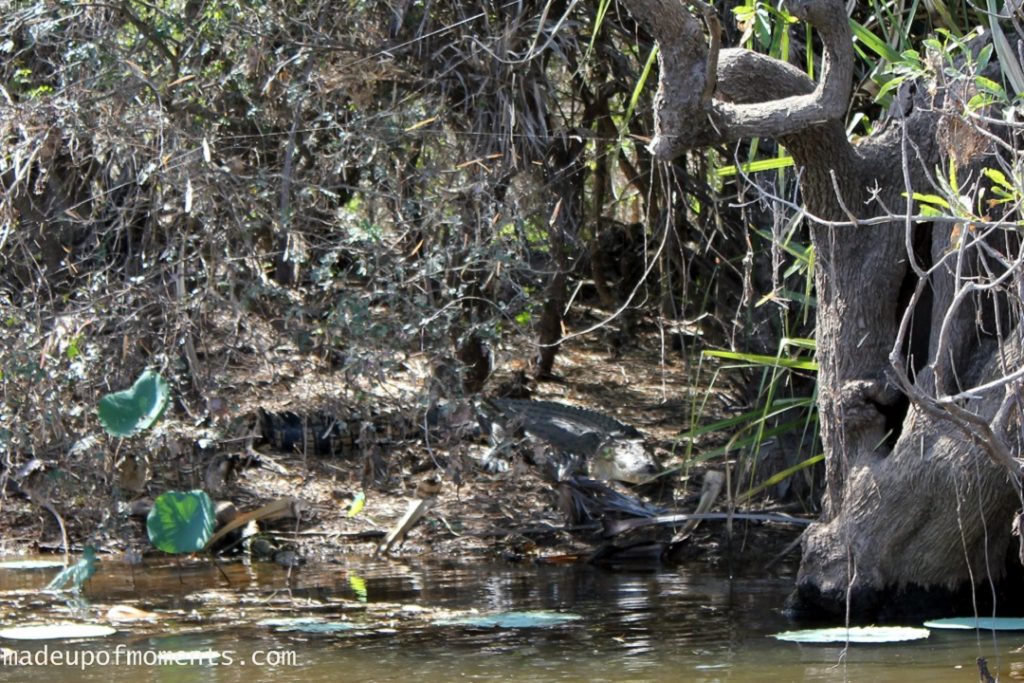 Following the cruise our little tour took some time to re-group and enjoyed a non-alcoholic cider with some cheese, dip and crackers next to the billabong – it all felt very dignified.
Our last stop on this tour was Casuarina Coastal Reserve where we had a bite to eat and enjoyed the view ocean. I was surprised by the quality of food in Darwin and lunch at De La Plage was no exception. My grilled vegie salad was a standout meal for the trip.
Bombing of Darwin with Garry
As I was flying out in the afternoon I decided I had just enough time to take a morning tour and learn about the bombing of Darwin. Not much is taught about this time in WA's history, which is a shame. So, I booked the Bombing of Darwin tour with Garry. Something I didn't know was that Darwin has more bombs dropped on it than Pearl Harbour.
Garry is a true Aussie larrikin and he brings the history to life but telling you about people who lived, and died, through the bombing.
Again, it was a small tour and takes about 4 hours. I wish we had stopped at a few more of the sites, rather than just driving by, but there is so much history to squash into 4 hours.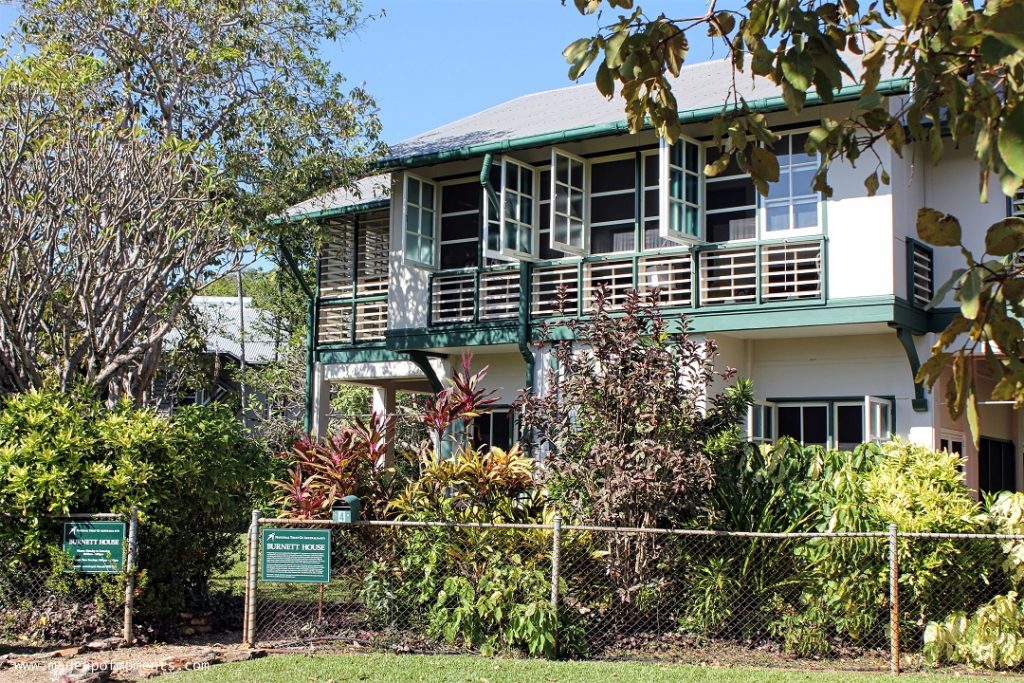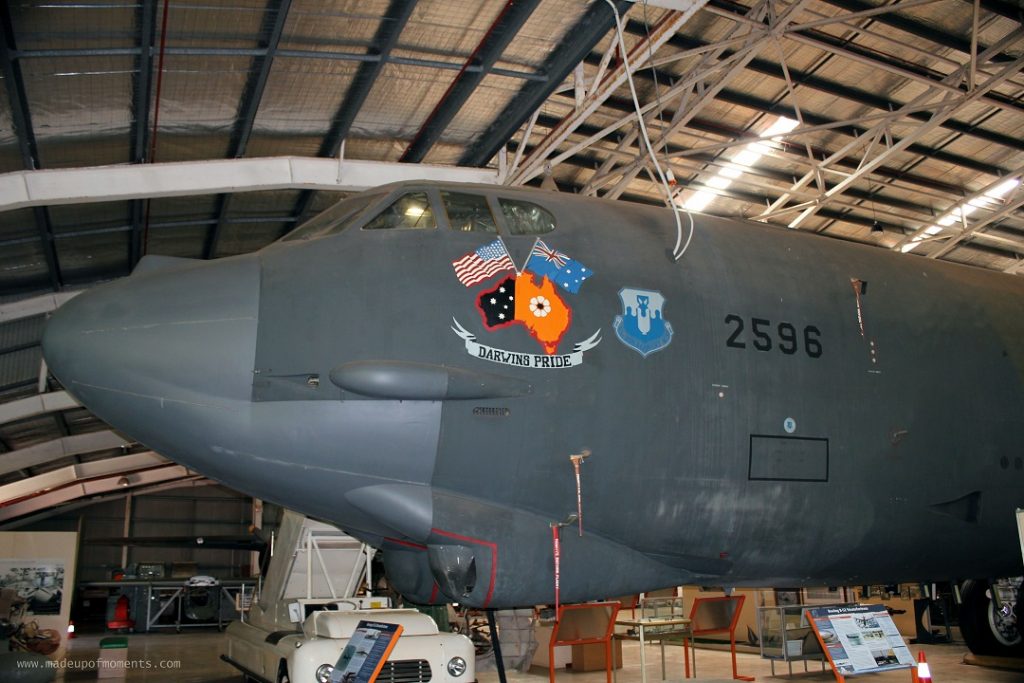 Darwin was full of surprises and I can't wait to head back and see more of the area.
Enjoy reading this post? Then why not Pin for later!