Fields of orange, red and yellow that seem to go on forever.
Prolonged skies of various shades of blue and grey with the intermittent wisp of white.
Stone buildings with the occasional steeple dotting the landscape. You may even catch a glimpse of the distinctive terracotta tiles that pattern the roofs in the region.
As we meander through the country laneways I can almost feel the smooth creamy texture of their famed triple cream brie cheese as the aroma of fruit with earthy undertones of the local grapes assault my senses.
This is my memory of our time in the Burgundy region of France.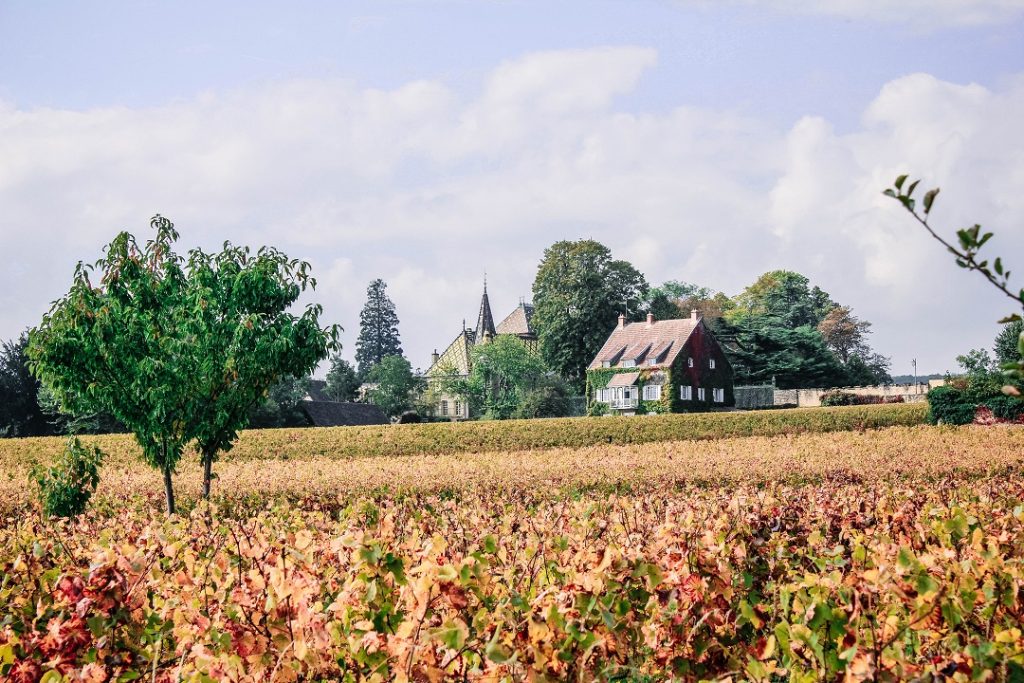 After spending a few days in Lyon, we picked up our hire car and started the journey to Autun, which was to be our home for the next 3 nights. It would easy to spend endless days exploring the Burgoyne region where there are wineries and chateaus aplenty.
Wineries in France operate a little differently to those in Australia. Here you pay a set amount for tastings, may be expected to buy a case of wine (not that easy when you have to fly half-way around the world) or book a paid winery tour. I knew about the tastings and cellar tours before we left, but we didn't find out about the purchase expectation until our hosts in Autun explained it to us. This just goes to show that you can do as much travel planning before you leave, but you will never know the ins and outs without engaging with local people.
Our first wine experience in Burgundy
As we made our way to our B+B we stopped at Chateau de la Chaize in Odenas. The cellar door is set in a beautiful stone building that is quintessentially French. From my research, I knew they offered cellar tours, but I didn't know the specifics. When we arrived we were told a tour had just started and to make our way downstairs to the cellar.
We realised fairly fast that the tour was in Spanish. While neither of us speaks Spanish, we do speak wine. And the cellar itself was amazing. It's one of the largest cellars from the 18th century at 108 meters long. This was our first authentic French winery experience and one I hope to repeat often. So, standing underground in a musty, earthy smelling tunnel, surrounded by 150 oak barrels (that were at least twice my height and once couldn't help what would happen if they started to tumble down?), sipping on red wine and listening to the guide explain its characteristics. We loved every minute of it.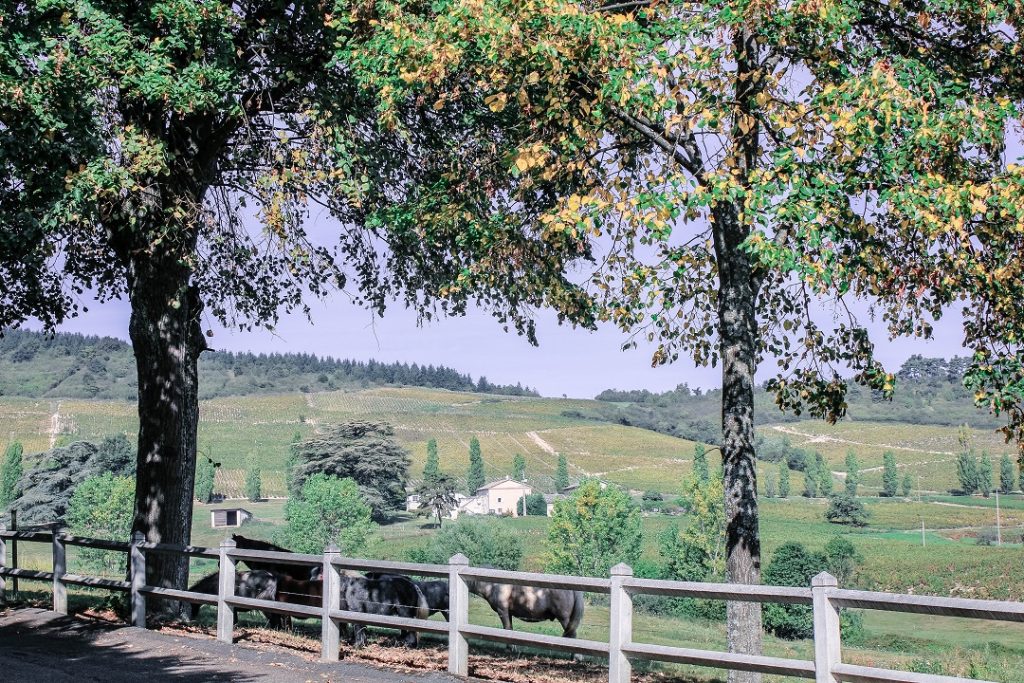 With my eyes a little glazed over from the wine we hopped back in the car and made our way to Moulin Renaudiots. Moulin Renaudiots is a maison d'hotes nested in the backroads of the Autun countryside, next to a free-flowing stream. I think it was this place that has inspired my need to return to France to live. It was like I was looking at a postcard. A stone-built water mill back in the 17th century was now a picture-perfect home with bursts of glorious autumn coloured vine leaves creeping along the walls. I wish I had the words to tell you how beautiful this home was. And I hadn't even stepped inside yet.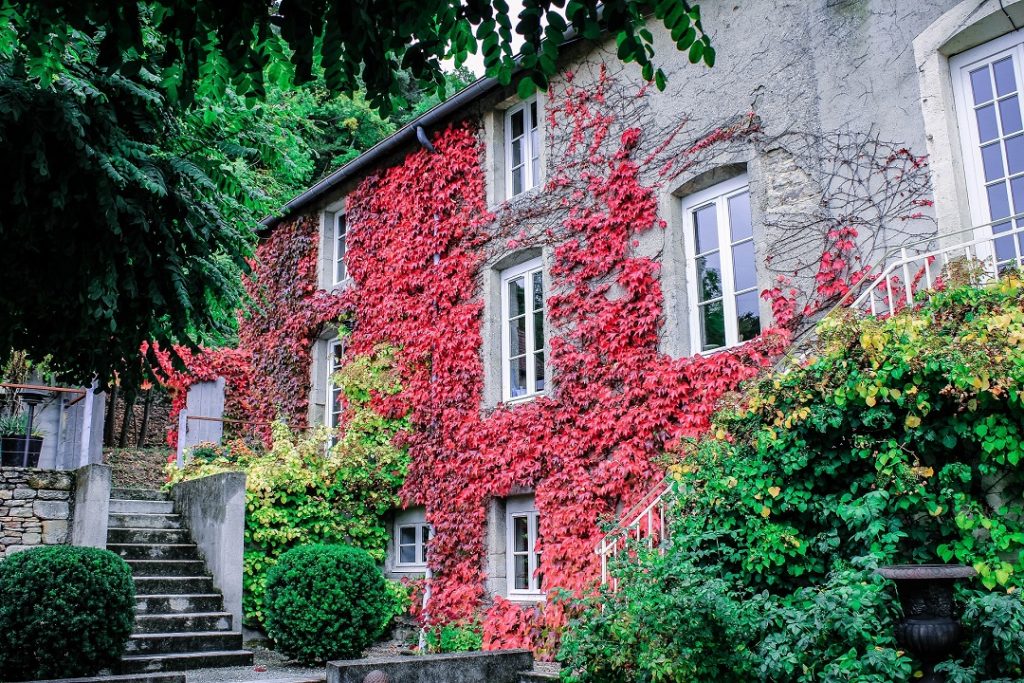 We were booked into the Saint André suite. It had direct access to the pool and garden area and was in a quiet part of the home, which we appreciated. While it was a little chilly in Autumn to experience the pool I can just imagine laying out on the lounge chair in Summer soaking up the sun rays with a cocktail in hand.
If you are lucky, and enough guests are staying, you can experience table d'hôtes, a three-course dinner, accompanied by local wines. As we were the only guests on our first night we were able to book a gourmet platter comprising of local cheese, salads and cold cuts. And, for the pièce de résistance, a freshly made tart topped with fresh raspberries.
Visiting chateaus and sipping on wine
The next day we drove a section of the Côte de Nuits wine road. This region is known for its subtle, sophisticated reds and most importantly their Pinot Noir!
If you are limited for time and are unable to visit many wineries I would recommend visiting L'Imaginarium in Nuits-Saint-Georges. It's an interactive museum on the history of wine in Burgundy with a large variety of wine tastings available at the end. The most unusual fact we learned during our tour was in the early 1900's farmers used to fire hail cannon's into the sky when a storm was approaching. It was to stop hailstones from forming on the atmosphere and then ruining their vines. Upon finishing the tour we made sure to sample several wines, including a selection of their Grands Crus, from the vast collection available (and a bottle or two may have been purchased).
There is no shortage of chateaus and medieval castles to tour in Burgundy. Many are even hotels and wineries. We chose to visit two on the first day, Château de Couches and Château de Sully.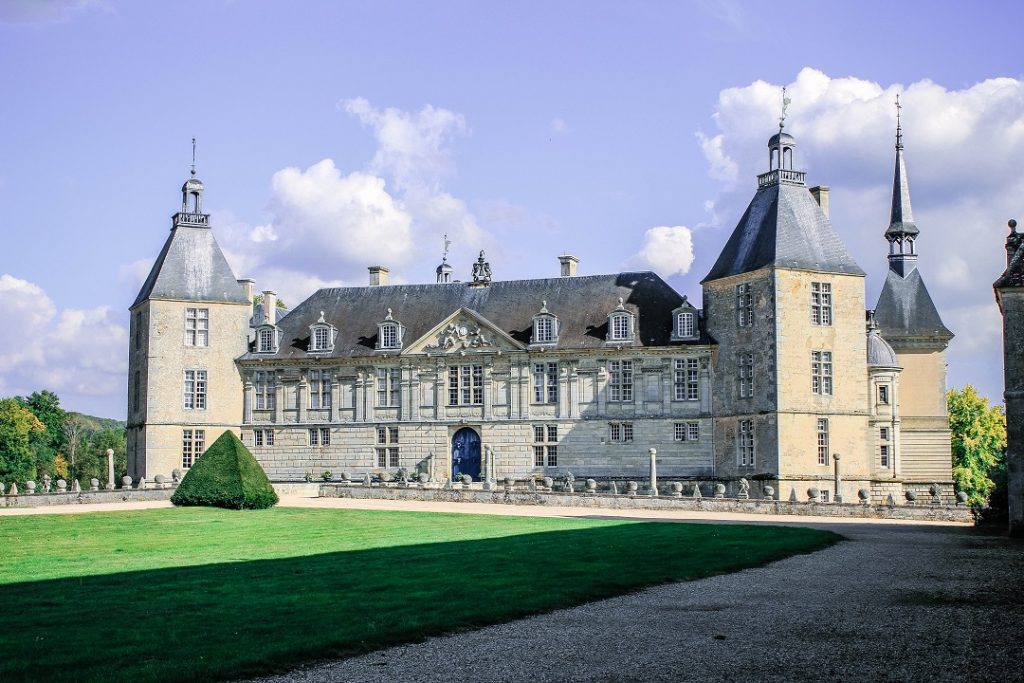 Château de Couches was quieter and a distinctly medieval feel. Like at any moment I was going to be whisked away to the dungeons, shackled to the walls, never to see the light of day again. Ok, maybe that's a little exaggerated. But it did have lots of underground passages that ducked and weaved around the castle. And, it even had a mistress tower!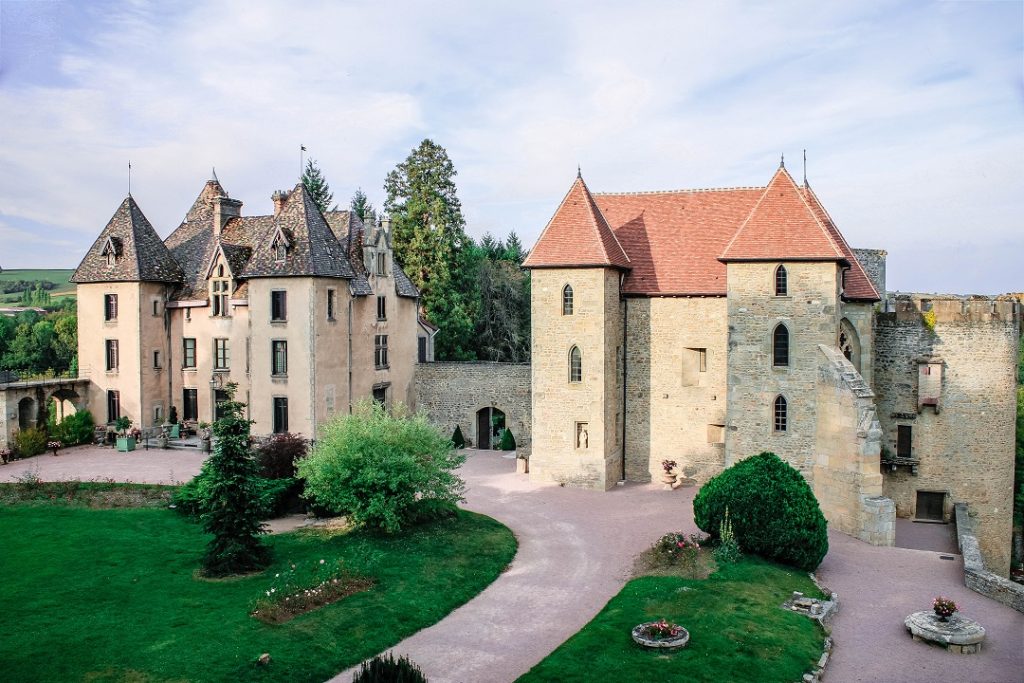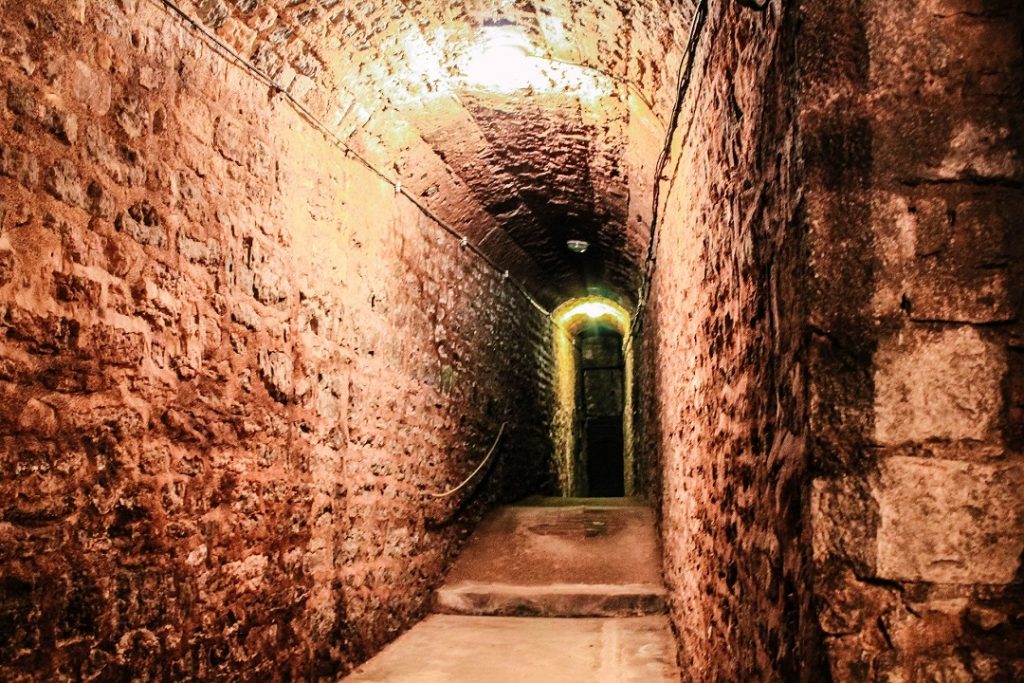 In contrast, Château de Sully felt more regal and refined. And, wait for it, it had a moat. The chateau was gorgeous. Each room is impeccably decorated with richly coloured wallpaper and velvet-covered lounges. In the main ballroom, I could see the bourgeoisie taking a turn on the dancefloor with their jewelled satin gowns and top hats. The chateau, is still to this day, a family home to a Duchess and her two children.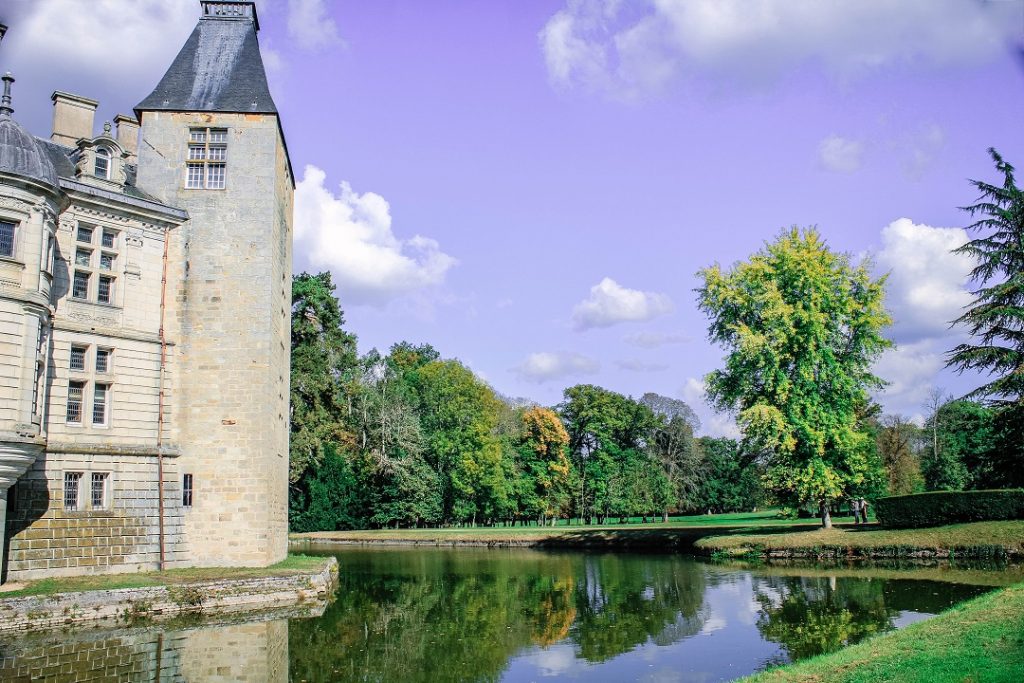 There is no shortage of outings in the Burgoyne region and I could explore for weeks, if not months, on end. I'll tell you about our day trip to Beaune in another post as I'm off to have a Pinot and reminisce of my time spent in Autun and daydream of the day we are able to return.
I would love for you to share your memories of your favourite French town or perhaps you have a wine story to delight us with.
Enjoy reading this post? Then why not Pin for later!